EcoVue® Ultrasound Gel sets the standard in high quality ultrasound gel, delivering an exceptional experience for technicians and patients while meeting today's infection control demands, helping to extend the life of equipment, and delivering bottom line value.
Features
99% Natural Formulation
EcoVue® has a gentle formulation free of dyes, parabens and propylene glycol, making it gentler on patients and equipment
Improved Sustainability
EcoVue® offers the option of waste-reducing packaging with the patented FlexPac. The gel is 86% bioderived carbon based materials meeting USDA BioPreferred guidelines, to help hospitals meet sustainability initiatives.
Infection Control
Single-Use packaging options provide flexibility to meet today's efficiency and infection control demands.
Exceptional Image Quality
Delivering outstanding image quality, EcoVue® provides seamless glide and optimal acoustic velocity at any temperature.
Easy Cleanup
EcoVue® gels clean up easily on both patient and the probe with minimal residue left behind.
Made in the USA • USDA Certified BioBased Product
SafeWrap® Sterile Packaging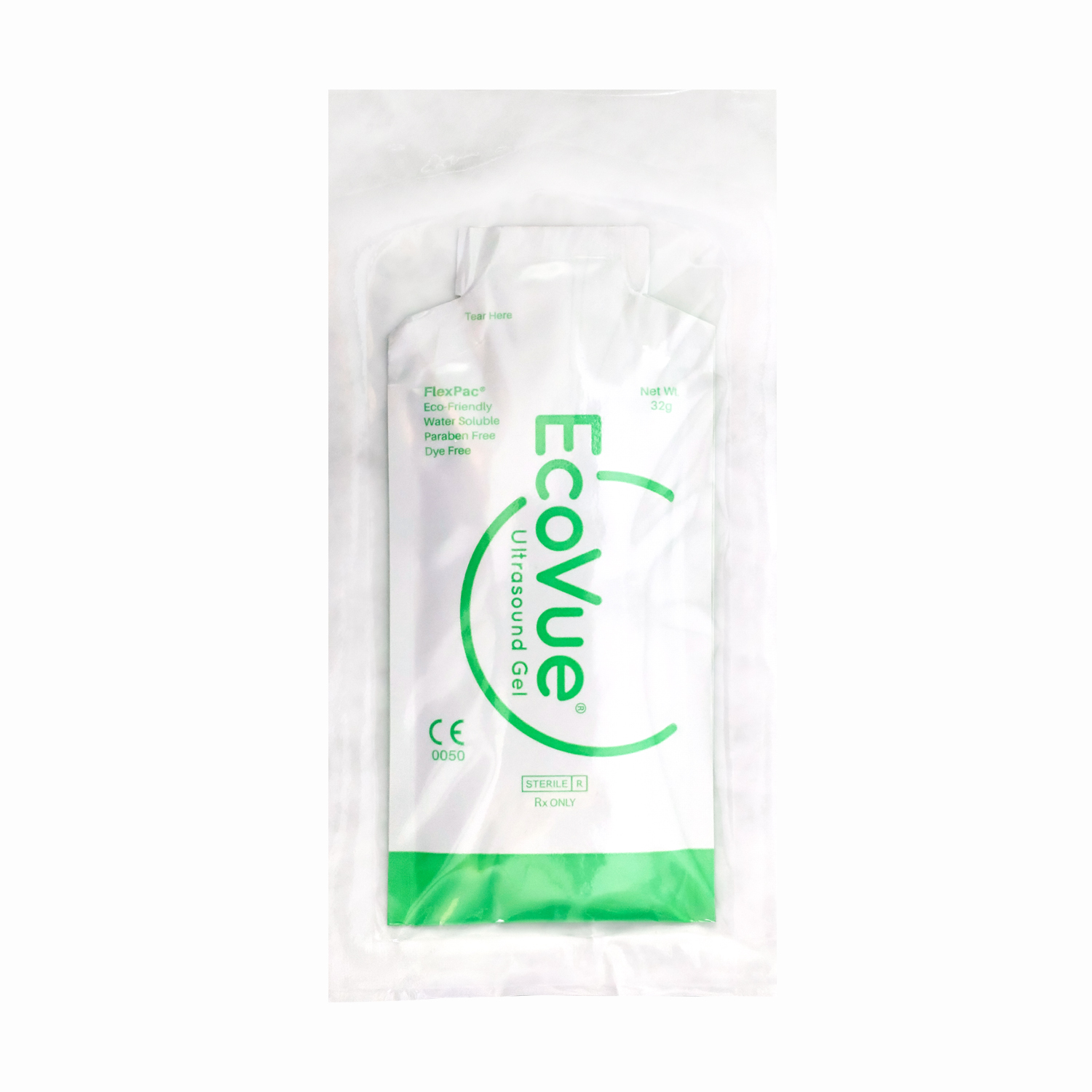 Provides a sterile field-ready solution ot meet the increasingly stringent infection prevention and control demands of today's healthcare environment.
Available in the original formula (20g and 32g) and HG (20g).
EcoVue Ultrasound Gels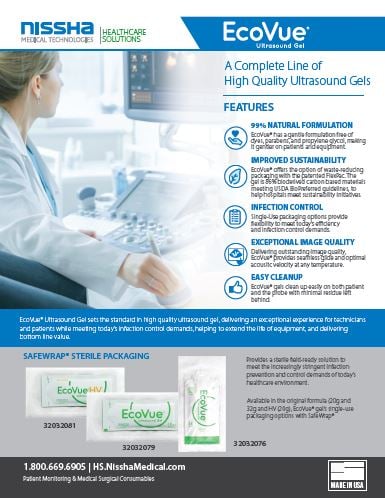 EcoVue Ultrasound Gel Warmer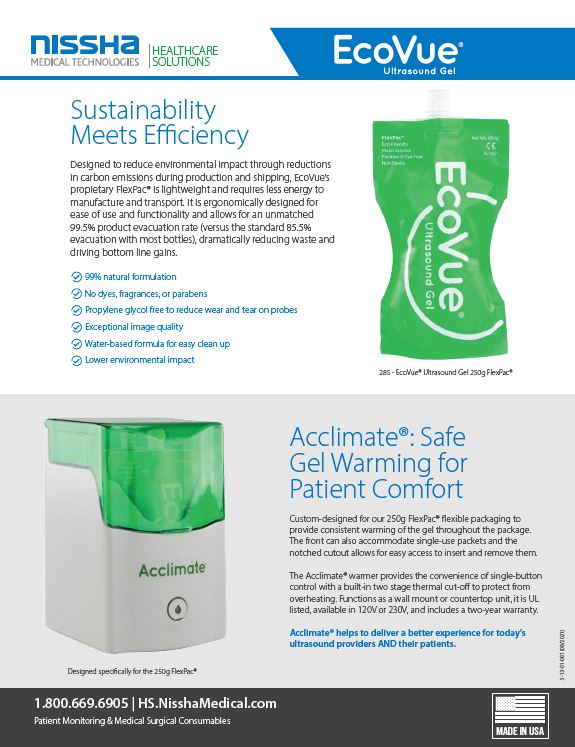 EcoVue Product Demonstration Video
Acclimate®: safe gel warming for patient comfort
Custom-designed for our 250g FlexPac® flexible packaging to provide consistent warming of the gel throughout the package. The front slow can also accommodate single-use packets and the notched cutout allows for easy access to insert and remove them.
The Acclimate warmer provides the convenience of single-button control with a built-in two stage thermal cut-off to protect from overheating. Functions as a wall mount or countertop unit, it is UL listed, available in 120V or 230V, and includes a two-year warranty.
Acclimate helps to deliver a better experience for today's ultrasound providers AND their patients.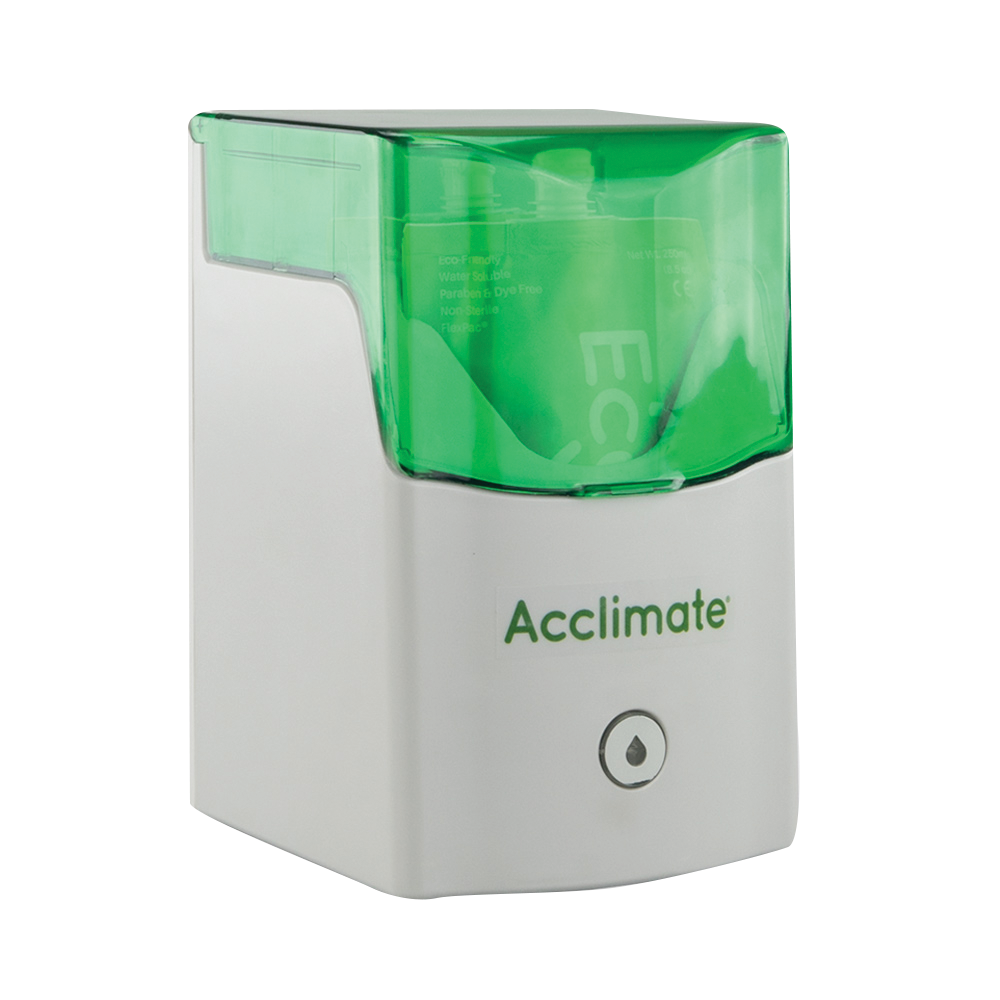 EcoVue® HV
Higher Viscosity formula for procedures requiring a thicker gel with more staying power. 35% Thicker than EcoVue® Original!
The best features of EcoVue® ultrasound gel - natural formula, exceptional image quality, no propylene glycol so it is easier on equipment, and optimal integration with the transducer - are now available in an option that is 35% thicker. EcoVue® HV offers a choice for procedures with more challenging scan surfaces that demand more staying power, delivering efficient, accurate scans.
Download Center
Nissha Medical Technologies offers additional literature and product
documents available to all users, for free in our download center.

More Information